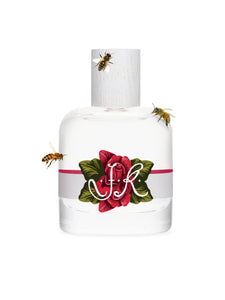 FK by ClockWork Cros
50ml bottle
                                                                                                                                   
What was the scent that permeated the Frida Kahlo House installation?

FK by ClockWork Cros- a fragrance reminiscent of the evocative signature scent worn by Frida Kahlo. FK summons a realm filled with honey and roses with its unforgettable top, middle and base notes provided by some of the world's most renowned perfumers. It is said that Kahlo's perfume was so extraordinary that her fragrance announced her presence even before she arrived. Use a touch of FK for subtle and enticing effect, or mist to make a bold lingering statement. The fragrance is safe and sustainable, containing phthalate/paraben-free organic ingredients.